During the recent SSA Fall Conference and Trade Show, we had the opportunity to engage with industry experts, gaining insights into the current self-storage landscape. Vincent Kirton and Jason Koonin of Sunbird Storage discuss their business model, emphasizing the importance of their front-end service.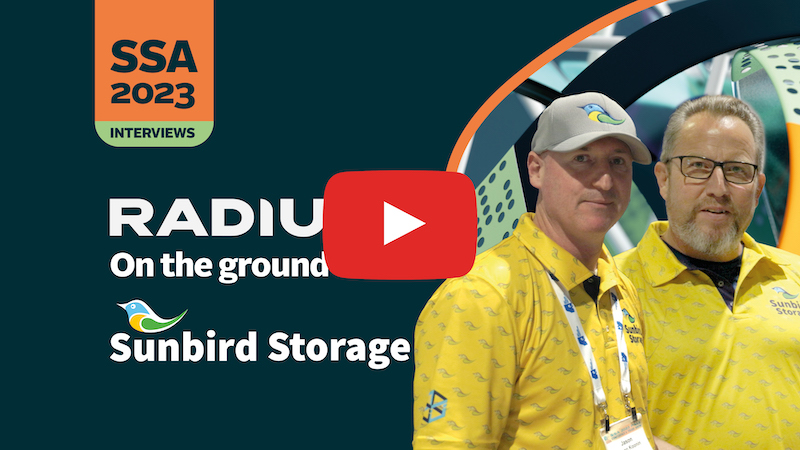 James: Alright, I'm here with Vince and Jason from Sunbird Self Storage. You know, the talk of the town is the fact that Extra Space has acquired Life Storage and what we're seeing with this consolidation in the industry is that asking rates have taken a nosedive. You know, year-over-year price changes and average price per square foot are very noticeable coming off the highs of 2021 and 2022. And so with this in mind, how can smaller franchises, your guys' business model kind of goes against the grain in that you don't have these very low asking rates and do these consistent price raises over time with in-place customers. So can you guys tell me a little bit more about that business model and sort of the success you've had with that?
Vincent: Yeah, well I think a lot of it is related to, you know, just with the right staffing in that. A lot of people are going into the kiosk side, you know, and the satellite siting, the self storage, right? We're focused more on customer service, right, and front end, you know, and so we do have the higher rates in there, but it's because of how we operate as well, right? You know, so the customer service side we find is number one, you know, and in order for retention, that's kind of key in a lot of cases, right? So that's really where we're headed with that. And then prices with, you know, with competitors in itself is that, you know, we don't look at what the other prices are in reality in a lot of cases. We value our company and our rates, you know, just on how we operate actually, you know, and that front end service we find is key for any business. You know, that is the heart of the business in reality, is that front end service. So I think that's one element of it that's very important.
James: Now, I do agree that people trust people with their belongings and, you know, having a clean, beautiful facility is very important to build that trust, but it almost feels like you guys are betting against human nature when we said self storage is a needs-based industry. So when people go online, they want to say, hey, what's the cheapest facility I can book a 10 by 10 because I need it today. Can you speak a little bit more of what your thought process is behind on betting on yourself and betting on your business model that has done so well in Canada?
Jason: Yeah, I mean, I think we take a very patient approach with our customers. We don't view it as much as a transaction, as more like a relationship. So we know if they're shopping for the lowest price, they may not select us. We do have competitive prices, but we also have fair and transparent prices. So our entire business is really built upon trust, full service has been said, and really not trying to give any gimmicks with the customers. We don't offer low rates and then give rent increases every three to six months. We're one of the only large players in Canada, as well as the US now that honors a 365 day rate lock guarantee for all of our tenants. So tenants come to appreciate this. I mean, they might get fooled by some of the larger players, but after two rent increases in six months, we tend to be the beneficiary of those customers and we end up building a loyal relationship with them. They want full service. They want someone to receive their packages. They want someone to answer the phone at the local store when people call. So we're really not in the mode of cutting costs, eliminating staff, reducing service levels, bait and switch on rent. We're trying to provide high service, full staff, staff that will answer the phones directly, not just sending everybody to a call center. And we're really investing in that customer experience and customers are willing to pay for that. Not every customer, but we're not after every customer. We're after a certain segment of the customers that value old fashioned service and respect and quality. And that goes through all of our facilities and all of our staff.
James: Great. Thank you. You have a lot of unique perspectives. I think it's building a long-term solution, like you mentioned. Now, you guys have had a lot of success in Canada. Can you speak more about the Sunbird storage franchise that you've been taking to the United States?
Jason: Yeah. So for Sunbird, we're obviously new to the US. We've got our first site we just opened in Winston-Salem, North Carolina. And based on what we learned in Canada, we're really going to continue to buck the trend. I mean, we're not going to get into this industry and try to go head-to-head with the big players with the same playbook. So the large players, the REITs, they obviously do a number of things very well, but they've run very similar playbooks. So they have introductory rates that are quite low. They have minimal amount of staff. So we're going with sort of a full service, high-end model. And that's how we're going to differentiate ourselves. We're not going to run the same playbook as them and try and beat them on low prices. Instead, if they're going to go lower, we're going to go higher. And customers are going to wonder if those rates are too good to be true and the kind of experience that they're going to get and when it's going to really change. So I would say if you're out there looking for storage, when you find a rate that seems too good to be true, ask the other companies how long they're willing to guarantee that rate for.
James: Great. That's all the amazing points. And thank you guys so much for your time. I look forward to seeing everything you guys do with Sunbird.