Originally posted on Sparefoot.com.
As part of the sale of his multimillion truck part business RealTruck.com in 2015, entrepreneur and author Scott Bintz agreed to a non-compete clause. That meant he couldn't launch any kind of e-commerce business for five years.
So, he built a self storage facility.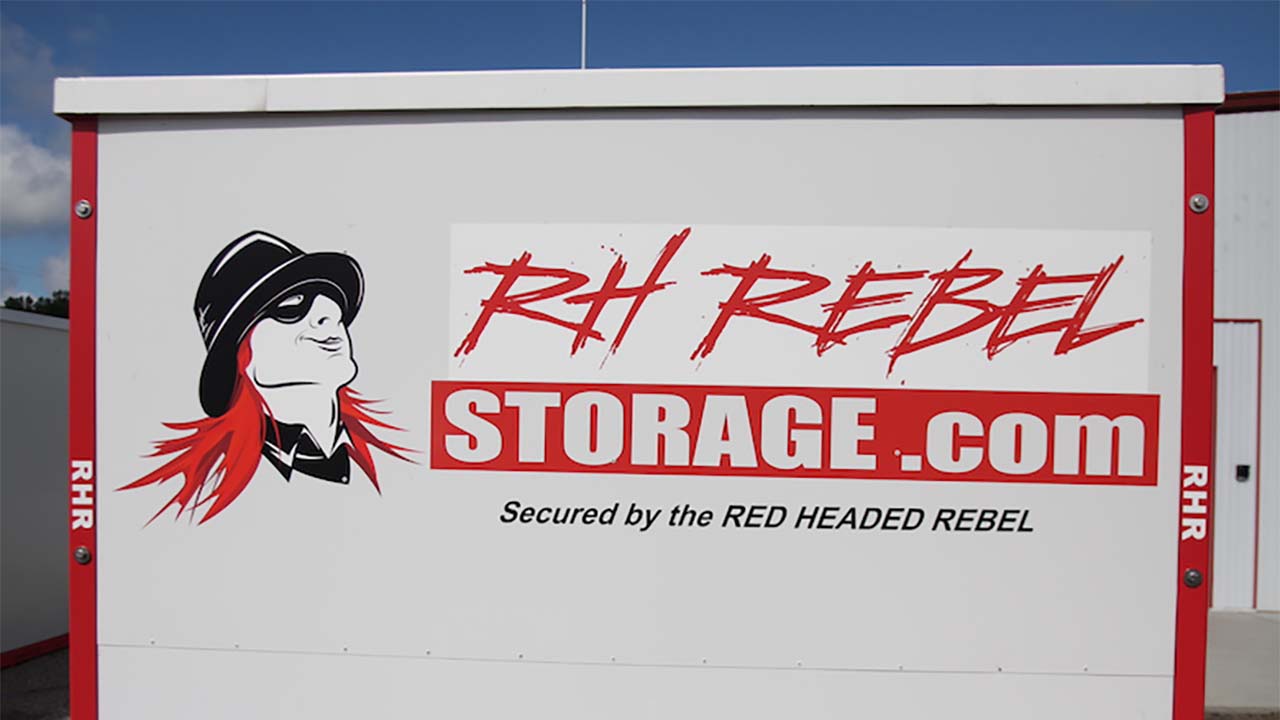 "I'd sold RealTruck.com," Bintz told the SpareFoot Storage Beat, "I built a rig shop and built some storage units next to it to subsidize the shop, but then it got a little out of hand."
Bintz wound up building four facilities located in the North Dakota cities of Jamestown, Valley City, and Minot. The facilities operated under the name RH Rebel Storage. The RH stands for Red Headed, a nod to Bintz's signature mane of red hair.
"I realized in order to sell, you probably have to have more than one facility in a B market," Bintz said.
Since his non-compete ended, Bintz decided to sell his portfolio, which encompasses 142,896 square feet of climate, non-climate, and portable container storage space.
In and out
"I just decided it was time to move on from storage and back into e-commerce," Bintz said.
Bintz recently launched a new truck accessories site called RHRSwag.com. He's also successfully released his own book Principle to Fortune, which describes how he turned RealTruck.com from a business he ran out of his basement into one that generated more than $100 million in sales. He also invests in multiple startups and is an adjunct professor at University of Jamestown.
As for storage, he admits that there is still room to grow in the market.
"I probably sold a year too soon," Bintz said.
The transaction was handled by Tom Flannigan of KW Commercial in Minneapolis and Argus Self Storage Advisors. Flannigan listed the property on behalf of Bintz.
"Working with Scott Bintz was a uniquely enjoyable experience. Only a true rebel would fathom building Class A climate controlled self storage in small town North Dakota and I was honored to represent him," Flannigan said. "Scott embodies the idea that you should focus on what you do well, to include fun, and to never make excuses. Those are good lessons for all of us to live by."
Flannigan also procured the buyer, Minneapolis-based KO Storage.
Launched in 2016 with a single facility in Wisconsin, KO Storage has grown over the last few years to own 70 properties totaling 12,000 units in nine states.
"We basically came in and optimized a mismanaged property and decided we are going to leverage technology where ever we could," said Andrew Freeman, one of KO Storage's three partners. John Marshalla and Ryan Burnet are the other two partners. The company grew from there.
The deal to buy RH Rebel Storage marks KO Storage's entry into the North Dakota market. Freeman said they had been in talks with Bintz for more than a year before proceeding with a deal.
"Scott hadn't built the Minot location yet, then that location leased up in record speed," Freeman said.
Freeman partially attributes the strong demand in the area to increasing numbers of telecommuters that are choosing to relocate to rural areas like the Dakotas. There are also limited numbers of climate-controlled storage units available in the area.
KO Storage primarily targets facilities in secondary and tertiary markets. It has several deals under contract to close over the next two to three months, and the company has a handful of developments in the works as well, Freeman said.
The purchase price of the portfolio was not disclosed. The facilities are located as follows:
1908 Hiawatha St. SE in Minot, ND
1618 US 281 North in Jamestown, ND
830 18th St SW in Jamestown ND
2535 W Main St in Valley City, ND
---
Author: Alexander Harris Site: Sparefoot.com